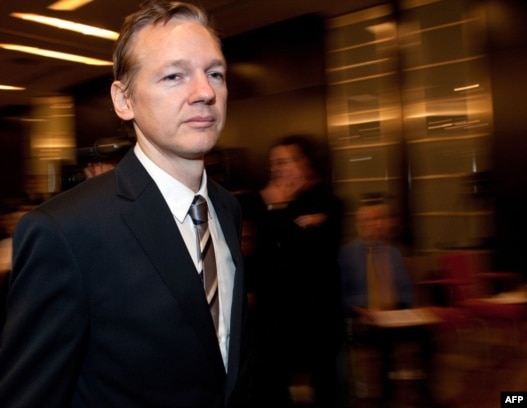 WikiLeaks founder Julian Assange (file photo)
LONDON, December 7, 2010 -- The founder of whistle-blowing website WikiLeaks, Julian Assange,
has been arrested
by British police.
London's Metropolitan police said Assange, an Australian, was arrested this morning when he appeared at a London police station by appointment and is due to appear in court later today.
Assange was arrested on an international warrant issued by Sweden, where he is wanted
on allegations of sexual crimes
.
Assange denies the charges, and his lawyer has said the case has "political" motivations.
Assange and WikiLeaks have faced increasing challenges, including hacking attacks and the closure of some bank accounts and web sites, since WikiLeaks began releasing secret U.S. diplomatic messages that it has obtained. The website had previously released thousands of documents on the Iraq and Afghan conflicts.
A spokesman for WikiLeaks said Assange's arrest was an attack on media freedom but it won't stop the release of more secret documents.
Is WikiLeaks a Whistle-Blower?
It is easy to note, that as the U.S. continues criticising WikiLeaks for exposing sensitive information, a large number of news resources, agencies have
ceased using
the term "whistle-blowing" when referring to WikiLeaks.
The term "whistle-blower" is usually used to describe someone within, say, a corporation or government agency who risks a career to speak out against corruption or fraud. It may just seem like a semantic issue, but how the media describe WikiLeaks can affect public perceptions. A whistle-blower is probably viewed positively, as an individual speaking out against wrongdoing.
Has WikiLeaks Done Anything Illegal?
In the United States, generally publishing classified information
is not a crime
, though news organizations can be prosecuted for publishing the identities of covert agents,nuclear secrets, and certain communications intelligence such as cryptography, signals communication intelligence, or interception of foreign governments' communications.
The government can prosecute whoever leaked the classified information, since that was an illegal act. However, it's harder to prosecute Wikileaks: since it's not based on the United States, it would probably not be subject to a court order from a U.S. district court. On the other hand, while the ruling from the Pentagon Papers case stops the Government from preventing publication, it does allow the Government to hold those who publish information accountable after publication if laws were broken.
Conclusion?
Over the past week we have seen repreated attacks against WikiLeaks - sources of its funding were blocked, DNS and hosting revoked, it struggled through multiple DDOS and other types of hack-attacks. There have even been attempts to stop people from reading and
sharing leaks about Wikileaks
on social networks.
Now they finally got to the spirit of WikiLeaks, Julian Assange. In formal terms, its "sexual abuse", but does anyone really seriously doubt, that this is a "political" matter? I would be very much surprised to find anyone in the doubt.